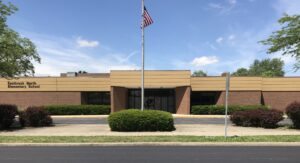 Van Buren is a town in Van Buren Township, Grant County, Indiana, United States. The population was 864 at the 2010 census.
Van Buren bills itself as the "Popcorn Capitol of the World." The largest local employer is the Weaver Popcorn Company; accordingly, its most famous annual event is the Popcorn Festival, held each August.
Joseph Boxell platted Van Buren Township in 1837. Martin Van Buren was the United States president at the time. In 1843 George H. D. Rood settled here and the creek that runs through the town was called Roods Run. As the area grew and developed it was called many names including Roods Corner, Roods Town, Roods Crossroads and Stringtown. In 1888 C.W. platted the area and it was known as Van Buren. In June 1892 the town became incorporated by the state of Indiana.